Photo Restoration
Professional Photo Restoration
Double Bay Camera Shop Photo Restoration Service is a leader in providing professional copy, restoration and retouching services of photographs at Eastern Suburb and Sydney. We use the latest specialised high-end equipment and have been restoring photographs for both families and organisations for over 20 years.
Our Photo restoration services help you bring life back to your photographs. Whether your photographs are torn, have creases, are dusty and scratched or have simply faded with age, our photo restoration professional ensure that the photographs are restored to their past glory.
Our editing team has years of experience working with digital image enhancement. They take the time to go through each picture to make individual improvements. While the focus of our service is digitization, we also pride ourselves in the quality of our digital editing work. Enhancements such as cropping, reorientation, red-eye removal and color correction will help to restore the quality of your older images. These edits will bring new life to your pictures and make them a pleasure to share and enjoy.
Restoration of Damaged and Faded Photographs
Regardless of how damaged your photographs are, chances are we can help.
Copy & restoration of damaged photographs

Restoration of faded photographs – from both monochrome and colour originals

Repair photos from damaged negatives

Remove photos stuck to frame glass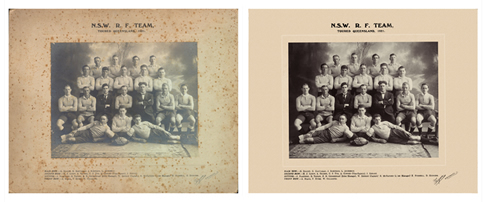 The Process of Photo Restoration
Once the photo has been scanned into a computer a digital photo specialist will be able to go over your picture correcting any flaws. What that requires is that every area that needs to be corrected will need to be digitally returned to what it was before the damage took place. Every tone and shade of colour will have to be matched in order to make the damage become invisible.
One great part about this procedure is that your original photo is left untouched. All of the alterations and photo restoration is done on a digital copy so you will still have the original photo. If you were to have a collage made out of several different images you would keep all of the originals, and you would get a beautifully finished new photo to add to your collection. If the resolution and quality of the photos are high enough, you could have the final photo enlarged to a size that would be suitable for framing.
Most Popular Requests
One of our most popular requests is to fix old or damaged photos, but why stop there? Once we have repaired and brought your old photo back to life we can go on to create perfect personalised photo gift. This type of restoration is usually requested for a special occasion, such as a 50th wedding anniversary gift or to commemorate a past or loved one. With wording of your choice these can be extremely beautiful, thoughtful and unique, especially when presented on a large Australian photo frame.
Before and After Examples
If you'd prefer to send your enquiry or questions via email, simply click here.